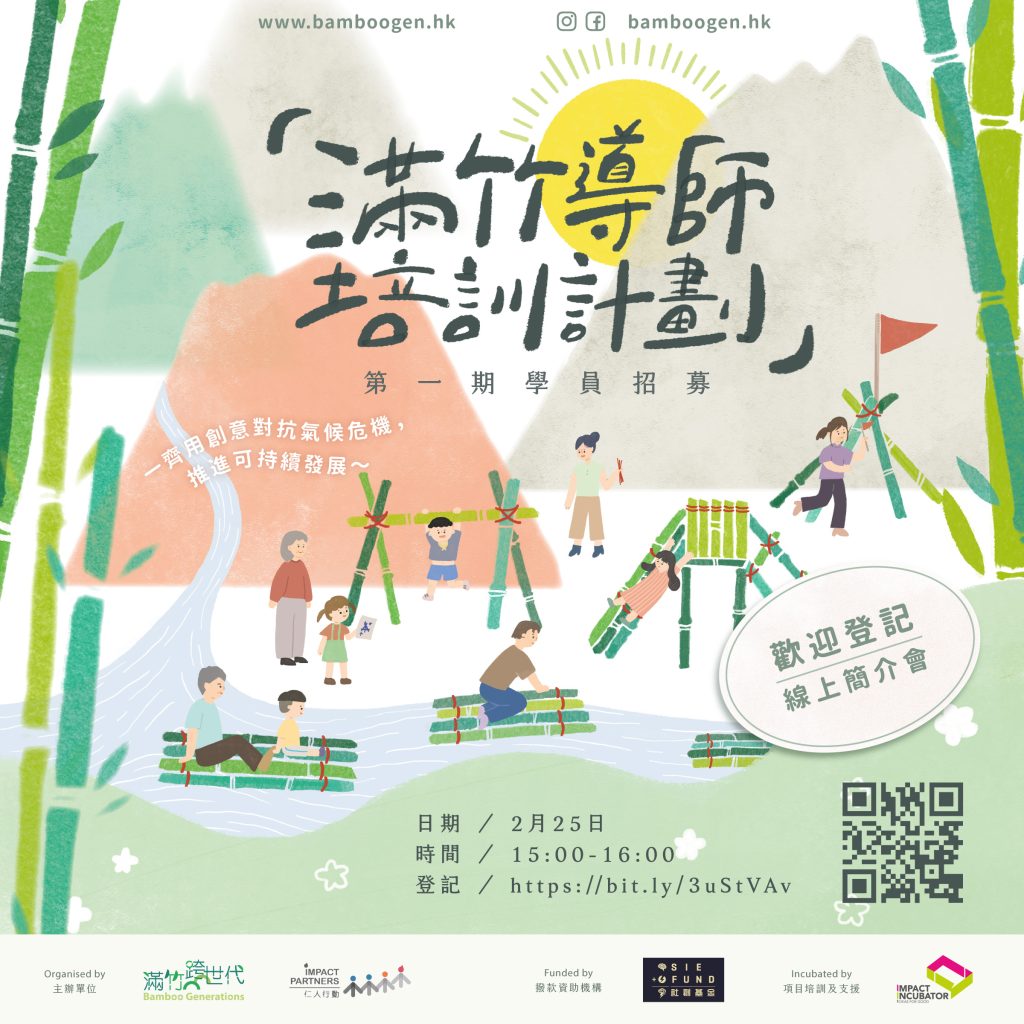 Certified Bamboo Play Instructor
Training Program
認證滿竹導師培訓計劃
Certifying body : Impact Partners HK
Open-ended evolution
The Certified Bamboo Play Instructor Training Program offers a quick and comprehensive introduction to Bamboo Scaffolding skill as well as the Bamboo Generations Movement. Throughout this course you will learn how to design bamboo structures, making bamboo modules for Bamboo Park by bamboo scaffolding skill.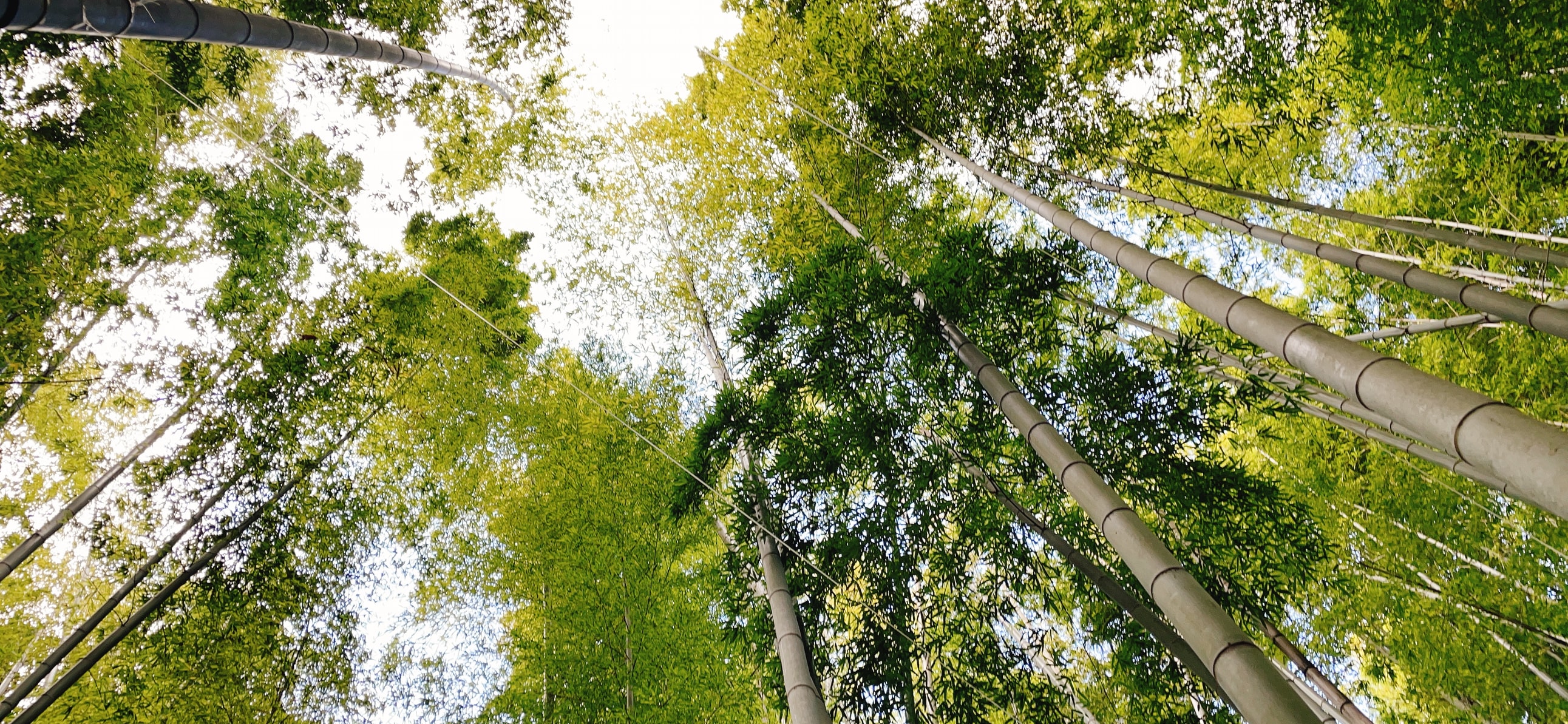 Who should join?
Anyone interested in mastering the basic skills of bamboo scaffolding to enable design and creation of bamboo-based products
Anyone who is keen to harness bamboo as an iconic tool for educating the public on the imperative of fighting the climate crisis
Anyone who would be available for conducting Bamboo Workshops during weekdays and weekends
Prerequisites
No specific educational qualifications required.
The ideal participants should have secondary education. Those with University Degrees are welcome.
Growth Mindset mentality is a must: ready to accept challenges, not afraid of failures/mistakes/setbacks, and good at learning from experience.
Those who want to join the program must have attended at least one of our full-day Bamboo Play Workshop.*
*Interested to experience one full-day Bamboo Play Workshop, please join us and become Bamboo Generations
The Training Program
The entire program consist of four components
I. Training workshops
Participants must complete three full days of training program:
Day 1 Bamboo scaffolding basics
Why bamboo scaffolding?
Purposes of mastering bamboo scaffolding skills
Basic skills and hands-on practice
Creativity and team work
Day 2 Advanced skills practice – to be conducted by a bamboo scaffolding professional
Dos and Don'ts of bamboo scaffolding
Safety considerations
Designing and creating bamboo products
Day 3 Bamboo Generations Movement
A movement and a business
Basic appreciation of architecture and engineering
Cross-generation collaboration and enjoyment
Anji Play and Children's Bamboo Park
II. Team-based self-study
Participants will be grouped into small teams each with a Learning Facilitator.
They will be provided with a number of short articles and videos for self-paced study. The Learning Facilitators will convene team discussion to ensure in-depth understanding of the materials.
A series of Quiz will be administered for team completion.
III. Trainee Instructors
On completion of the three-day training, participants will be assigned to workshops to serve as Trainee Instructors.
They will observe and support the Chief Instructors and Instructors conducting the workshop.
There will be briefings and debriefings before and after the workshop respectively to help consolidate key learnings.
The participants need to serve as Trainee Instructors in at least five workshops within three to five months. Actually the sooner the better. But we would like to provide flexibility so as to ensure all could meet this requirement.
IV. Graduation project
Each participant needs take part in a team project (3 to 4 members each) to design one bamboo-product with a sketch or model to document the design. This will then be constructed by the team.
The final project completion will include a 1-minute video featuring the product and its intended functions.
Program Duration
Around three months
*News*
Coming course : Mar to Jun 2022
Briefing Session: 25 Feb 2022
Career Path for Bamboo Play Instructor
Upon completion of the Program, the Certified Bamboo Play Instructors will be qualified to conduct Bamboo Play workshops.
They will initially serve as Instructor, assisting the Chief Instructor in conducting the workshop.
After serving as Instructor for three to five workshops, there will be three options available:
Continue to serve as Instructor, or
To be trained as Chief Instructor (no formal training will be offered; the training is through observation, coaching and mentoring)
To serve as Project Manager for one or more Bamboo Play Workshops (performing all communication and coordination with the client and organizing the work of the Chief Instructor and Instructors)
Beyond these roles, Certified Bamboo Play Instructors could consider the following options:
Become a full-time, part-time, or freelance trainer for Impact Partners HK
Launch their own companies and become licensed training partner of Impact Partners HK
Develop innovative bamboo-based training programs to be offered under Impact Partners HK and earn a royalty each time it is being delivered
Design and develop bamboo-based events and projects, such as bamboo playgrounds, to be offered to corporates, NGOs, schools, or charitable foundations
Any other options are welcome, limited only by the imagination of the parties concerned
Honorarium
Let it be pointed out that we do not expect that one can earn a lot of income from being a Certified Bamboo Play Instructors.
Nevertheless, we insist that they should receive some monetary compensation for their work, even for those we do not need the income. For the latter, they could donate their income to sponsor low-income or disadvantaged groups(such as PODs, SEN students, unemployed youth, etc.) to join our Bamboo Play Workshops.
We intend to offer a reasonable honorarium for the roles of Instructor, Chief Instructor and Project Manager.
Business Development
Certified Bamboo Play Instructors are encouraged to assist us in business development. They could introduce us to their friends and/or organizations and assist us in concluding contracts for paid projects.
Alternatively they could organize Bamboo Play Workshops themselves under our company name (Impact Partners HK) and identify Chief Instructors and Assistant Instructors to conduct the workshop.
The workshop venue could be our sites at Mui Wo or Kam Tin. We do not intend to restrict the venue to our sites, but there are certain basic facilities required for conducting workshops, e.g. availability of bamboo poles, tools, etc. Using our sites simplifies the logistics involved.
For these business development efforts, we will offer compensation to the persons involved on a case-by-case basis. We would like to encourage everyone to be our 'Marketing Manager' and receive an honorarium when contracts are secured.